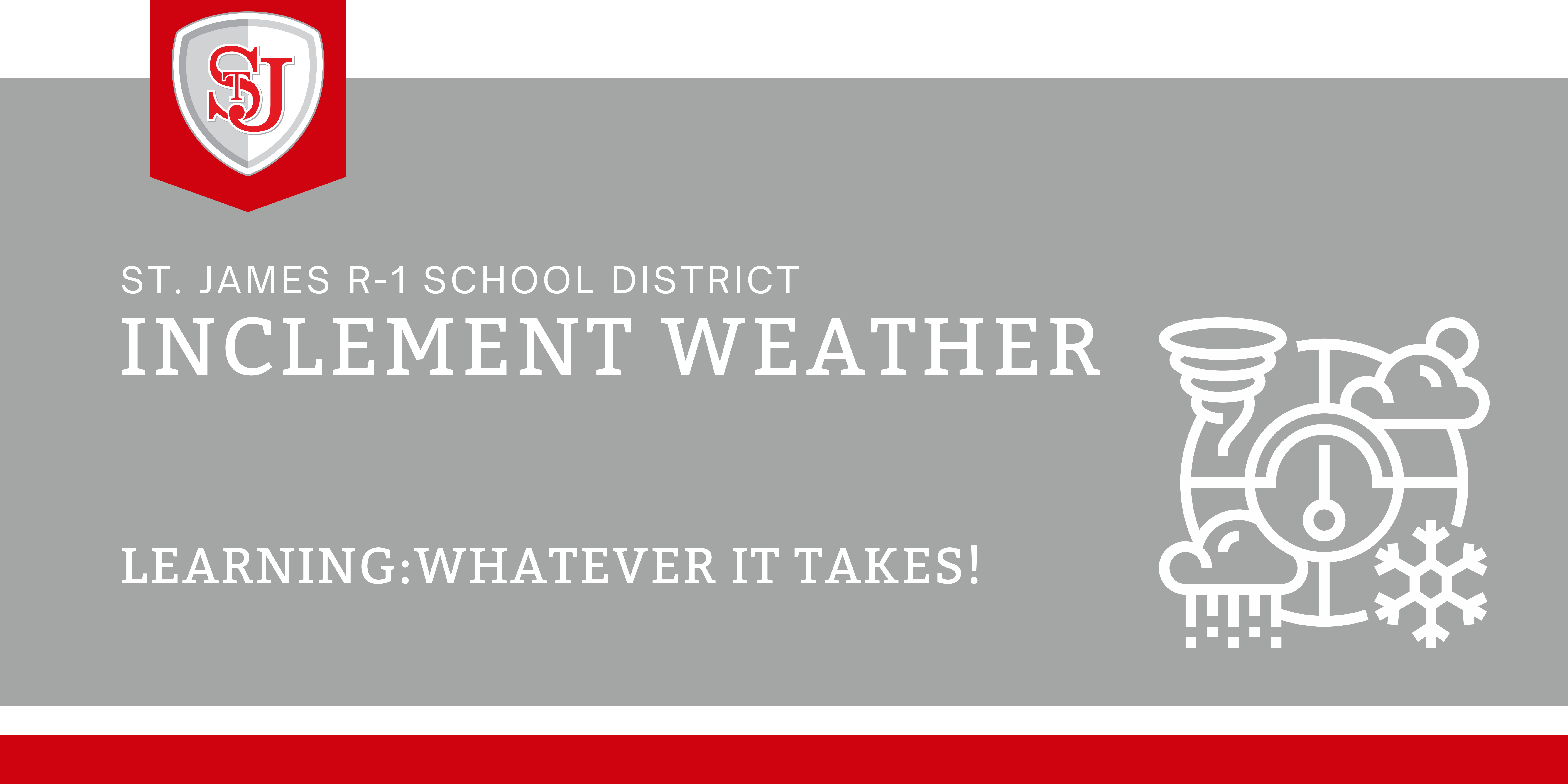 First and foremost, the safety and security of our students and staff is our top priority and drives all of our decisions when it comes to inclement weather.
Please make sure your contact information is accurate to ensure you receive alerts and messages from our mass notification system.
Communication regarding inclement weather and potential school closings will be posted on our St. James R-1 District App (Android or iOS) prior to the official announcement through our all call system. A decision to close school is typically not made until 5:00 AM on the morning in question.
On days that our district is closed, our mass notification system will contact all district families at their primary and secondary phone numbers at or before 6:00 AM to announce the closing. If school is in session and students will be dismissed early, our system will contact all district families as soon as a decision is made.
We will post school closings or schedule changes on the following radio and television stations, and Social Media platforms:
Radio - KTTR/KZNN (105.3 FM), KCLQ (107.9 FM)

Television - KOMU 8, KSDK 5, FOX 2, KPLR 11, KOLR 10, KOZL 27, FOX Ozarks 29
Please utilize the media options listed above to receive information regarding school closings or schedule changes.
Snow Day: Making the Decision
One of the hardest decisions a Superintendent makes is whether or not to call off school due to weather. There are multiple factors that determine the decision, but it comes down to an informed, subjective judgment call. Though it might seem like a simple task, we have a process followed each time the threat of inclement weather is imminent.
Considerations prior to closing school:
Road conditions, both main roads and secondary roads

Bus stop safety

Buses running on time, delays

Bus turnarounds, likelihood of accident or breakdowns

Temperatures

Forecast

Timing of precipitation

Condition of school building bus and parking lots at the time of arrival or dismissal
People with whom we consult:
Copeland Bus Service

Buildings and Grounds staff

State, county, and city road departments

National Weather Service

Local Weather Outlook

If you as a parent feel it is unsafe to have your child(ren) attend school in person, please know that decision continues to be yours, one the school district will respect.