We are proud to announce senior Jake Wilson has received the Leadership Value HONOR award from the Army for displaying exceptional qualities such as leadership, integrity, and service. This award is a testament to his hard work, dedication, and commitment to excellence.
Each month the Fort Leonard Wood Public Affairs Office chooses a different Army Value - Loyalty, Duty, Respect, Selfless Service, Honor, Integrity and Personal Courage and school districts submit their nominees along with a justification. The Public Affairs Office coordinates with the three major brigade teams on post, the 3rd Chemical Brigade, 1st Engineer Brigade and 14th Military Police Brigade, to identify a leader to present the award. The students are presented a certificate signed by the Maneuver Support Center of Excellence and Fort Leonard Wood commanding general and the command sergeant major.
"Honor - defined by the traits of respect, duty, loyalty, selfless service, integrity and personal courage. Jake is the epitome of an honorable citizen. His involvement in multiple organizations and athletics, as well as doing his part as a member of the student body, lends him opportunity for leadership," said his nominating teacher. "He has a sense of duty to his peers and teachers, and he fulfills that duty every day. Without fail, he is prepared, articulate, and honest in everything he does. He does not sit idly while others take charge - Jake will always step in and do what needs to be done without the world watching. The sky's the limit for Jake."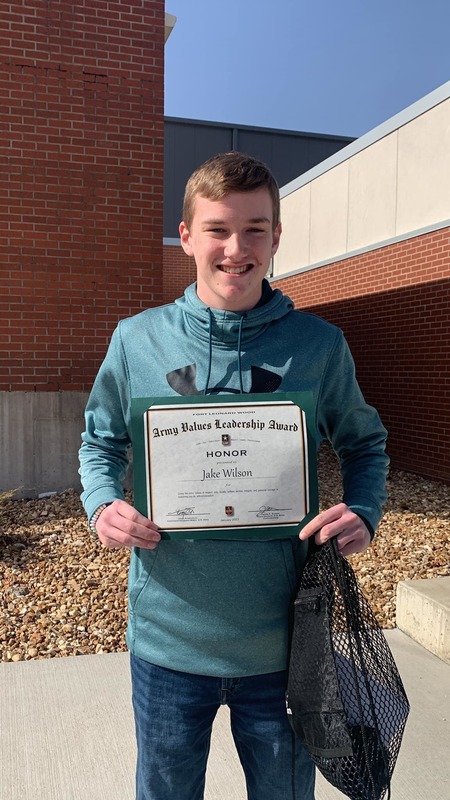 We congratulate Wilson for his achievement and we are honored to have him as part of our school district. The recognition by the Army is a testament to the high standards we set for our students and it serves as an inspiration to others to strive for excellence.
"It is important that we take time to highlight the good attributes our youth are demonstrating, while at the same time encouraging them to continue to do so," stated Ms. Amanda Sullivan, our liaison. "Just as there are long-standing programs in place to recognize student athletes and those who score high in academics, we felt it was important to start a program to focus on a student's actions, character and the values they demonstrate — the same values our Soldiers live by."
We are committed to providing our students with the resources and support they need to achieve their goals, and to make a positive impact in their communities. Thank you to Fort Leonard Wood for "recognizing young people such as Jake, for making a positive impact on their fellow students, school and communities."